09/18/2023
EMO 2023 - Digital Engineering / Digital Twin Test Cuts
Optimized process engineering through Digital Twin
Faster, safer, more precise: With Digital Engineering and Digital Twin Test Cuts, DMG MORI sets new standards in the optimization of systems and processes.
As Industry 4.0 progresses, the digital vision is increasingly gaining contour and, above all, practical relevance for CNC manufacturing technology. Among the defining developments are the digital twin and the tools of artificial intelligence and advanced analytics. DMG MORI has always set standards in both sectors. In the course of the Digital Transformation (DX) – one of the supporting pillars in the Machining Transformation (MX) alongside Process Integration, Automation and Green Transformation (GX) – development continues to advance. The combination of end-to-end networking, digital twins and AI tools, as well as their interactions, open up a wide range of perspectives for manufacturing companies. The added values range from more efficient machine tools to improved process stability and higher product qualities. Innovation and more environmentally sustainable production are also promoted. 
DMG MORI is demonstrating how these convergences can shape the future of manufacturing at EMO with two current new developments from its digital service spectrum: Both Digital Engineering and Digital Twin Test Cuts enable process optimization even before the actual start of production.
Digital Engineering: 40 percent faster production ramp-up
Digital Engineering starts before the actual start of production. The entire manufacturing system is digitally simulated, including the program and automation. This eliminates the need for time-consuming and resource-intensive machine run-in. Even new processes can be set up digitally while the machine is still running. Employee training can also be done digitally. "The production ramp-up can be accelerated by up to 40 percent," says Dr. Daniel Niederwestberg, Head of Digital Twin at DMG MORI, citing one of the added values. At the same time, setup times on the real machine are reduced by up to 80 percent. In addition, the complete digital inspection and optimization of the machine and the process ensure 100 percent collision-free machining. "In the totality of its functions and capabilities, Digital Engineering offers users faster processes and, thanks to the optimal utilization of data and new knowledge, increased productivity as well as improved efficiency," adds Dr. Daniel Niederwestberg.
Digital Twin Test Cuts: Test machining within two working days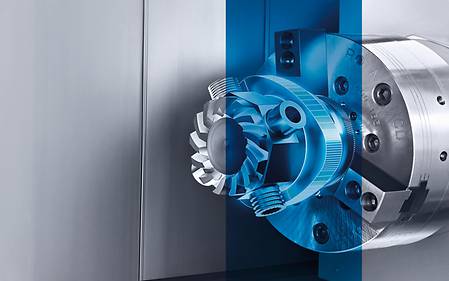 Even before a machine is purchased, the question arises as to which manufacturing solution is optimal for the increasingly complex and diverse workpieces. Part of the decision-making process to date has been test machining at the manufacturer's premises. They are intended to define requirements in terms of accuracy and production time and to reduce the investment risk. Dr. Daniel Niederwestberg adds, "As proven as this approach is, it costs time, money and resources - especially since it is often difficult to procure the right machines, tools, fixtures and materials for representative trial machining in a short time." This is precisely where the new Digital Twin Test Cut from DMG MORI steps in.
Digital Twin Test Cut technology creates an exact digital twin of the machine and simulates the cutting process without the need for real tools, fixtures or materials. Depending on customer requirements, optimum machining parameters can also be determined in this process. In that case, the Digital Twin Test Cut technology takes into account all relevant factors such as cutting force, tool vibration or surface quality. "Virtualized problem solving delivers a reliable result just like machining on a real machine," states Dr. Daniel Niederwestberg. Dr. Naruhiro Irino, Operating Officer of Advanced Technology at DMG MORI adds, "The Digital Twin enables open interaction of machines and processes for perfect planning, control, simulation and analysis." The main advantage of the Digital Twin Test Cut Service is the significant time savings. Typically, simulation results are available within two working days. Using conventional methods, it sometimes took several weeks. What's more, digital test cuts are environmentally friendly, as no real tools, materials or coolants are used, and the power requirement is much lower than for actual machining.