09/18/2023
EMO 2023 - E-pallet
Clamping more intelligently with smart fixture
Interface for flexibility and process optimization – the E-Pallet from DMG MORI expands the classic media transfer with power for sensor technology or for all-electric clamping devices. 
With the technological progress in CNC machining, clamping devices have continuously evolved – from mechanical single clamping to today's proven hydraulic device for multiple clamping. DMG MORI is now setting a new milestone in this development: The E-Pallet revolutionizes the classic machine table and enables the use of smart clamping devices and utilizes intelligent software. It is thus another building block on the way to Digital Transformation (DX), which is a pillar of DMG MORI's Machining Transformation (MX) alongside Process Integration, Automation and Green Transformation (GX).  With the E-Pallet, even the most complex applications can be efficiently clamped and controlled. In this way, it increases flexibility while providing the necessary intelligence to optimize processes.
Hydraulic workpiece clamping offers numerous advantages, high clamping forces with simultaneous automation of clamping processes. In addition to these advantages, however, there are also challenges: higher energy costs, additional floor space of aggregates and a high variance of rotary unions. Their number of channels is limited, which limits the possibilities for process monitoring. DMG MORI has found a suitable answer with the E-Pallet, a smart interface for controlling electrical and hydraulic devices. 
The E-Pallet interface can provide power for all-electric clamping devices with 48 V and 50 A via docking. It provides current for sensor technology (24 V / 4 A), which is transmitted inductively. This allows permanent interrogation of sensors. 
In addition to power, the new interface can transfer up to four channels with hydraulics or pneumatics as usual. By using electrical directional control valves on the clamping device, these channels can be intelligently expanded, which removes the channel limitation. Another innovation at E- Pallet is safe speed management using RFID technology. This enables individual speed limitations of pallets and thus mixed operation of milling and turning applications on the same machine. 
Cost reduction through flexible voltage and optimized processes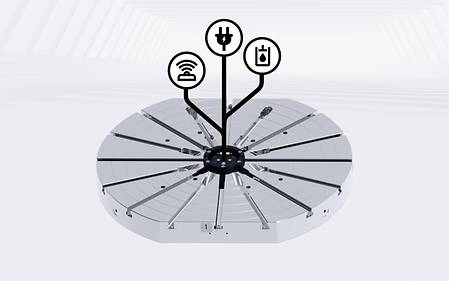 Compared to conventional hydraulic clamping, the E-Pallet offers numerous advantages in application. In addition to process optimization, a new level of complexity can be mapped that meets the high safety requirements. The installed sensor system provides permanent digital monitoring of the tension at the setup station and in the machine's work area. High-precision monitoring of the support and presence, as well as path and force monitoring, can be implemented on the fixture side. Reinhard Musch, Managing Director of DECKEL MAHO Pfronten, is certain: "With its increased flexibility and the possibilities of digital monitoring, the maintenance-free E-pallet makes a decisive contribution to process optimization in metal-cutting production - and thus also to cost reduction."