01/30/2023
World premiere: CTX 350
Universal turning with state-of-the-art equipment
Attractive price and high-quality equipment – the new CTX 350 combines the best of the CLX and CTX alpha series in universal turning.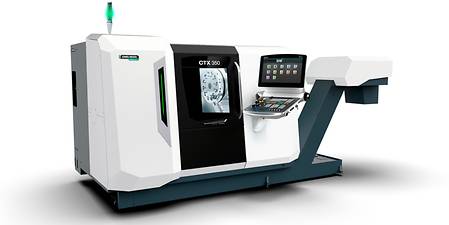 DMG MORI is positioning the new CTX 350 universal turning machine as the successor model to both the CLX 350 and the CTX alpha 500. The world premiere consistently combines the best of both series – the price level of the CLX series and the performance and equipment diversity of the CTX alpha machines. These include a dynamic, precise C-axis, a VDI30 turret and a main spindle with energy-efficient synchronous motor that achieves a speed of 5,500 min-1. Optional equipment variants include a Y-axis with +/- 50 mm, a tailstock, a counter spindle with 6,000 min-1 speed and a chip conveyor. On the control side, DMG MORI installs either SIEMENS or FANUC. Intelligent automation solutions for autonomous loading and unloading complete the modular system around the CTX 350.
Its versatility makes the CTX 350 a valuable universal turning center in any production environment. Compared to the previous models, DMG MORI has been able to increase the working area while maintaining the same footprint of around 8 m². A bar passage with ø 65 mm, a chuck with ø 120 mm diameter and a turning length of up to 540 mm depending on the equipment variant allow machining of a wide range of components. The turning diameter is ø 320 mm. The turret provides space for twelve driven VDI30 tools. Their speed is 6,000 min-1, optionally up to 12,000 min-1. For the main spindle, DMG MORI uses an internal synchronous motor that is ten percent more efficient. The accuracy of the C-axis is due to a measuring system that is mounted on the front bearings and is therefore independent of small spindle deformations.
Automation solutions from a single source
DMG MORI has also taken the importance of automated production into account for the CTX 350. An integrated robot for loading and unloading chuck parts is available for the universal turning center, or a likewise integrated unloading unit for shafts up to 500 mm long and ø 40 mm in diameter. Alternatively, the CTX 350 is also compatible with Robo2Go Turning, which brings additional flexibility to production automation.