09/18/2023
EMO 2023 - World Premiere: INH 63
High-productivity 5-axis milling redefined
Stable, precise and fast: The INH 63 offers maximum productivity in the machining of complex workpieces – if required also as a highly automated production solution.
Automated manufacturing, a supporting pillar of Machining Transformation (MX), requires machine tools that ensure operation that is as productive as it is reliable. DMG MORI is presenting such a model at EMO in the form of the INH 63. The robust design of the 5-axis horizontal machining center guarantees long-term accurate production of complex components with workpiece weights of up to 1,000 kg. The working area is ø 1,070 x 1,000 mm. The maximum pallet size is 630 x 630 mm. Thanks to its compact dimensions, the INH 63 can be easily integrated into automated production systems, paving the way for the future of manufacturing. In addition, innovative equipment around the coolant supply ensures highly efficient and thus sustainable operation.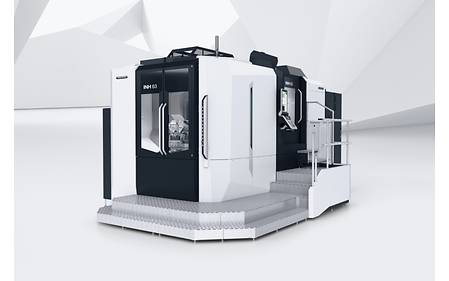 Molds for the die & mold sector, battery boxes for electric vehicles or valve housings in the aerospace sector – the INH 63 convinces with high accuracy and fast machining in a wide range of applications. Its stable design with ball screws in the X, Y and Z axes allow precise and dynamic milling. Direct measuring systems from MAGNESCALE offer high positioning accuracy. In 5-axis machining, the INH 63 offers a wide swivel range of + 45° to -195°, while direct drive motors in the A-axis and B-axis come to speeds of 30 rpm and 90 rpm respectively. In addition, it features a powerMASTER spindle with a speed of 12,000 rpm and 808 Nm of torque for heavy-duty cutting.
A spindle with 16,000  rpm and 1,414 Nm is optionally available. For the MASTER spindles, DMG MORI provides a warranty of 36 months without runtime limitation. 
High mold capacities for process-reliable autonomous production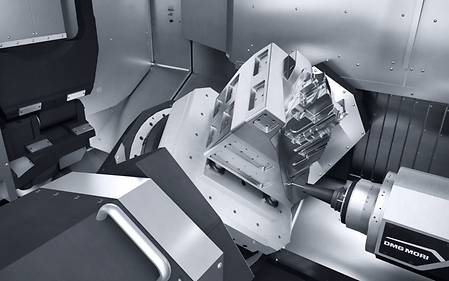 The wheel magazine, which has 63 tool positions as standard, can be expanded to six wheels, providing space for up to 363 tools. Tools weighing up to ø 320 x 700 mm and 35 kg (optionally 50 kg) can be accommodated here. Starting with two wheels, full-time and part-time parallel setup is possible. The high mold capacities allow long autonomous operation when the INH 63 is integrated into large pallet storage solutions, for example. An optical mold breakage and chip control supports process-reliable production.
Automated into the future of manufacturing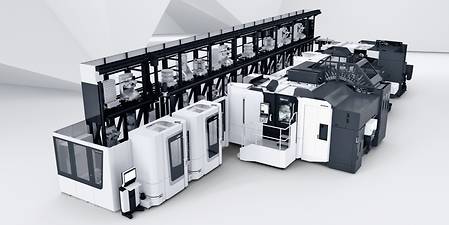 The INH 63 can be used flexibly in automated production. Here, both linear pallet pools (LPP) and circular storage systems (CPP) are available, depending on the required number of pallet positions and the available production area. The hydraulic clamping pressure in the clamping devices is maintained by the pallet – even during pallet changes. In the future, DMG MORI will also enable workpiece handling using MATRIS or AMR.
Innovative features for maximum energy efficiency
To drive Green Transformation (GX), another pillar of Machining Transformation (MX), DMG MORI has equipped the INH 63 with innovative features that enable energy-efficient operation. For example, the zero-sludgeCOOLANT pro, a vertical coolant tank, enables easy separation of lubricants and coolants. This increases coolant shelf life and reduces CO2 emissions by up to 7.5 t per year. The coolant nozzles in the work area with a diameter of ø 3.8 mm do not clog and, with the optional AI Chip Removal, operate as needed, depending on the amount of chips. Energy savings of up to 57 percent per hour are possible here. Other energy-saving options include an internal coolant supply with up to 100 bar and the zeroFOG emulsion mist cutter, which can reduce CO2 emissions by a further 35 percent.