09/18/2023
EMO 2023 - Green Transformation (GX)
More efficiency and applications for sustainable projects
Energy savings of more than 30 percent and competence partnerships in the production of sustainable technologies: With GREENMODE and GREENTECH, DMG MORI is driving the Green Transformation (GX).
Alongside Process Integration, Automation and Digital Transformation (DX), sustainability in the form of Green Transformation (GX) is a supporting pillar of DMG MORI's Machining Transformation (MX). With it, the machine tool manufacturer is shaping the future of manufacturing. It is intended to help achieve climate protection targets and at the same time is a response to rising energy prices. Its guiding principles include resource-efficiently produced machines (GREENMACHINE), energy-efficient machine operation (GREENMODE) and competence partnerships in the production of green technologies (GREENTECH). Thus, DMG MORI realizes energy savings of more than 30 percent with the help of a total of 13 pioneering technologies and innovative features. The basis for GREENTECH is close cooperation with customers on projects around sustainable developments. The aim is to efficiently manufacture innovative components for regenerative energies and e-mobility.
GREENMODE: 13-point plan for more than 30 percent less energy consumption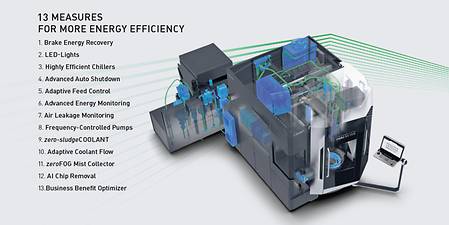 "As in the entire Green Transformation, DMG MORI is also pursuing a holistic approach in implementing the GREENMODE," explains Marc-André Dittrich, Manager Corporate Development & Worldwide Institutions. For this reason, he says, a detailed analysis of all influences on the energy consumption and productivity of a machine was carried out. This step has resulted in a 13-point plan (including Business Benefit Optimizer), which ensures greater efficiency in every operating state with innovative hardware and software components. For example, DMG MORI machine tools will in future have brake energy recovery, LED lighting, the Advanced AutoShutdown and, in many cases, highly efficient cooling units as standard. These and other optional measures contribute significantly to reduced energy consumption.
The efficiency of a machine tool depends on its productivity. This means that the reduction of process and non-productive times as well as consumables has an influence on the overall efficiency. A contribution to this is made by the adaptive feed rate control, with which shorter machining times can be achieved and which is available for machines with Heidenhain control. Other optional measures address the demand-oriented use of auxiliary units, such as the coolant pump. With the help of Advanced Energy Monitoring and optional compressed air monitoring, energy requirements can be precisely monitored and compressed air leaks quickly detected.  In addition, maintenance times can be reduced through the use of the zeroFOG emulsion mist separator, while the AI-based workspace flushing of the AI Chip Removal enables shorter cleaning times. The Business Benefit Optimizer completes the 13-point plan. In a clear dashboard, the tool compares the energy requirements and CO2 emissions of individual machines as well as the entire machine fleet. This enables customers to take energy costs and sustainability aspects into account at an early stage of the investment decision.
If the 13-point plan is implemented consistently, users will benefit from considerable energy savings. When the machine is used in a typical industrial environment, the savings are more than 30 percent. The increased efficiency pays for itself quickly: Within three years, the investments in the measures of the 13-point plan pay for themselves.
GREENTECH: Competence partnership for the production of sustainable technologies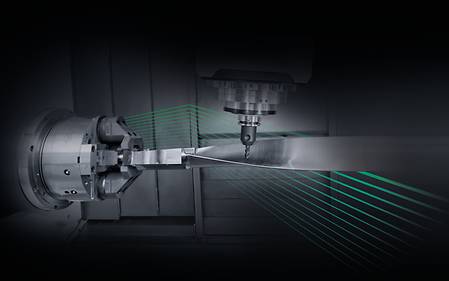 Solar energy, wind power, electric mobility - in the development and production of green technologies, DMG MORI has played a key role for many years as an experienced partner in the field of advanced manufacturing solutions. With the further development of green technologies, manufacturers and suppliers are confronted with new workpieces and often increasing machining requirements. "Working closely with these users, DMG MORI designs manufacturing solutions that meet these challenges," says Marc-André Dittrich. The GREENTECH workpieces on display at EMO impressively illustrate that the entire technological portfolio is used here – from 5-axis simultaneous machining and 6-sided complete machining to additive manufacturing and laser precision machining.
Shorter throughput times and higher precision through complete machining
In the area of hydropower, DMG MORI demonstrates the project around a hub of a Kaplan turbine, which is used in hydropower plants. The complex workpiece is machined on a DMF 300|11 with milling rotary table in a single setup. In addition to a shorter machining time, the component quality increases because inaccuracies due to reclamping operations are eliminated. Similar effects are achieved by a DMU 65 FD monoBlock in the production of gear components of a planetary bearing for the wind power industry. 
Advanced technologies for more efficient fuel cells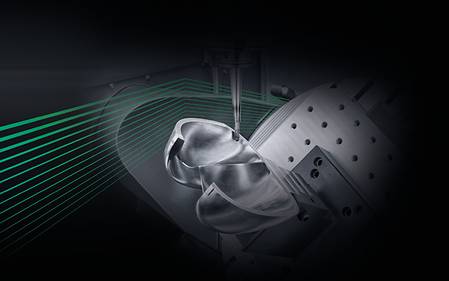 DMG MORI impressively demonstrates the innovation potential through new manufacturing processes using the example of prototypical bipolar plates for fuel cells. The additive manufacturing of these components as part of the "Dolphin" research project was carried out in the construction space of a LASERTEC 30 DUAL SLM. 3D printing has the decisive advantage that cooling channels can be integrated and flow fields can thus be created. This makes it possible to increase the efficiency of fuel cell operation.