01/30/2023
speedMASTER 30k
Efficient high-speed cutting at 30,000 min-1
With the new speedMASTER 30k, DMG MORI has developed a high-speed spindle that is an optimal solution in die & mold applications and for the use of small diameter tools.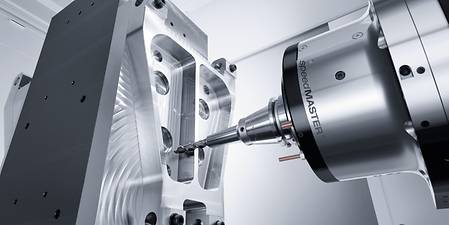 DMG MORI Components like the machine tool manufacturer's extensive spindle portfolio make a significant contribution to quality and reliability in machining. Many years of experience and technical know-how flow into the products developed and manufactured by DMG MORI – as in the case of the speedMASTER 30k. The new high-speed spindle achieves a speed of up to 30,000 min-1.
speedMASTER spindles are designed for high-speed milling applications and are used in horizontal and vertical machining centers such as the NHX 4000/5000 3rd Generation and NVX 5000 2nd Generation as well as the monoBLOCK series. The previously available spindle range already reached speeds of up to 15,000 min-1 or 20,000 min-1. With the new speedMASTER 30k, DMG MORI enables even faster milling and shorter machining times.
The speedMASTER 30k is an optimal spindle for users who want to implement high-speed milling over long machining sequences on tool and mold parts. In addition, the high-speed spindle shows its strengths when tools with small diameters are used. This allows small, complex workpieces to be machined highly efficiently and with optimum quality – for example, when drilling semiconductor components. Existing machines can be easily upgraded to the speedMASTER 30k, as it has the same mounting interface as the 15,000 min-1 and 20,000 min-1 spindles.
The development of the speedMASTER 30k is the result of many years of experience in high-speed milling. Their manufacture is carried out entirely at DMG MORI, so that the machine tool manufacturer can ensure the highest quality. As with all MASTER spindles, a warranty of 36 months with no term limit applies. Furthermore, the speedMASTER 30k is an additional step into a more environmentally friendly production. The significantly shorter machining times reduce CO2 emissions and power consumption.