09/18/2023
EMO 2023 - World Premiere: CTX 450 / CTX 550
Performance, precision and flexibility in the premium segment
The powerful universal turning machines CTX 450 and CTX 550 from DMG MORI offer maximum machining versatility on the way to the manufacturing of the future.
With the CTX 450 and CTX 550, DMG MORI is presenting at EMO the two larger sister models of the CTX 350 introduced at Open House Pfronten 2023. The CTX brand stands for powerful and flexible universal turning machines with a high level of equipment diversity in an attractive price segment. For example, the CTX 450 and CTX 550 feature a main and counter spindle as well as a Y-axis with 130 mm travel. This enables complete 6-sided machining of complex workpieces. A turning diameter of ø 480 mm and a turning length of 800 mm or 1,225 mm for the CTX 550 offer maximum flexibility for components.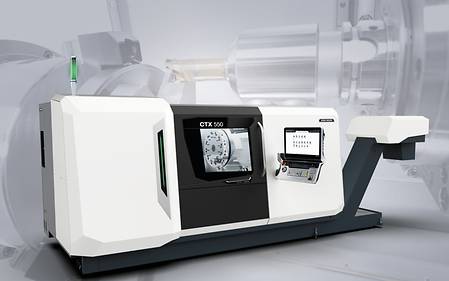 "In the premium segment of universal turning, we see the CTX 450 and CTX 550 as perfect companions for 6-sided complete machining of demanding workpieces," says Dr.-Ing. Claudio Merlo, Managing Director GRAZIANO Tortona, positioning the two new developments. This makes them important tools with a view to the Machining Transformation (MX), with which DMG MORI is shaping the future of manufacturing. Its four pillars of Process Integration, Automation, Digital Transformation (DX) and Green Transformation (GX) are reflected in the CTX 450 and CTX 550. The efficient 6-sided complete machining can be automated in various ways - for example with the Robo2Go or the MATRIS. The universal universal turning machines can be easily integrated into company networks with the highest safety standards. 
The app-based control with a 24" multi-touch screen simplifies digitization on the shop floor. Energy-efficient operation is ensured by modern drives such as the synchronous spindle motors.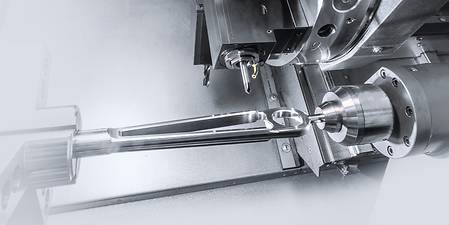 High technological standards for performance and accuracy
The CTX 450 already has a main spindle with 4,000 rpm and 360 Nm. The main spindle of the larger model achieves 770 Nm at a speed of 3,250 rpm. The counter spindle has a speed of 5,500 rpm and a torque of 192 Nm (CTX 550: 4,000 rpm and 360 Nm). The turnMASTER spindle concept with three (ISM80) or four bearings (ISM102) ensures the high precision of the two universal universal turning machines and a large bar capacity (80 mm or 102 mm). The positioning accuracy in the C axis is 0.001°. The X and Y axes are equipped in standard with a direct measuring system by MAGNESCALE, while air/oil cooling for turret gears minimizes temperature deviations. As top performance option a direct drive turret with a speed of up to 10,000 rpm and a torque of 42 Nm allow demanding cutting operations and high-speed milling.